Every top performer needs someone in her court.
Research studies and surveys show time and time again that one of the biggest challenges to women entrepreneurship is a lack of support. Women business owners need a safe place to ask questions, work through obstacles, and celebrate success. If you're ready to grow or you simply need some guidance getting through a tough spot, NAWBO-OC's Mentoring Program can help.
Interested? Fill out our interest form and we'll get in touch to discuss!
The NAWBO-OC Mentoring Program is a structured six-month program designed for women entrepreneurs, women-led startups, and solopreneurs who are looking to seriously jump start their growth, overcome challenges, and feel fulfilled.
Applications will open soon for the 15th Cohort. The program runs October 2020 to March 2021.
July 16, 2020 - Mentoring Program Q&A
October 1, 2020 - Last day to submit application
October 10, 2020 - Kick-off meeting and pairing – Training: Planning and Implementation
October 2020-February 2021 - One-on-one sessions
January 12, 2020 - Training: Productivity
February 21, 2021 - Training: Sales & Marketing
March 11, 2021 - Program Celebration
The cost to participate in the program is $500 - Installment plans are available; $200 deposit required
Mentees and mentors must attend the Orientation and Launch event
Mentees and mentors must be NAWBO members in active standing - Join at nawbo.org
NAWBO-OC's Mentors are highly-qualified, well-established business women, many of whom run very successful executive coaching businesses. Mentors donate their time and expertise to support up-and-coming women entrepreneurs.
2020-21 Mentors announcement coming soon!
Please fill out the following interest form in order to receive a login and instructions to access the full application. The application is used to match you with a mentor so your experience is tailored and relevant.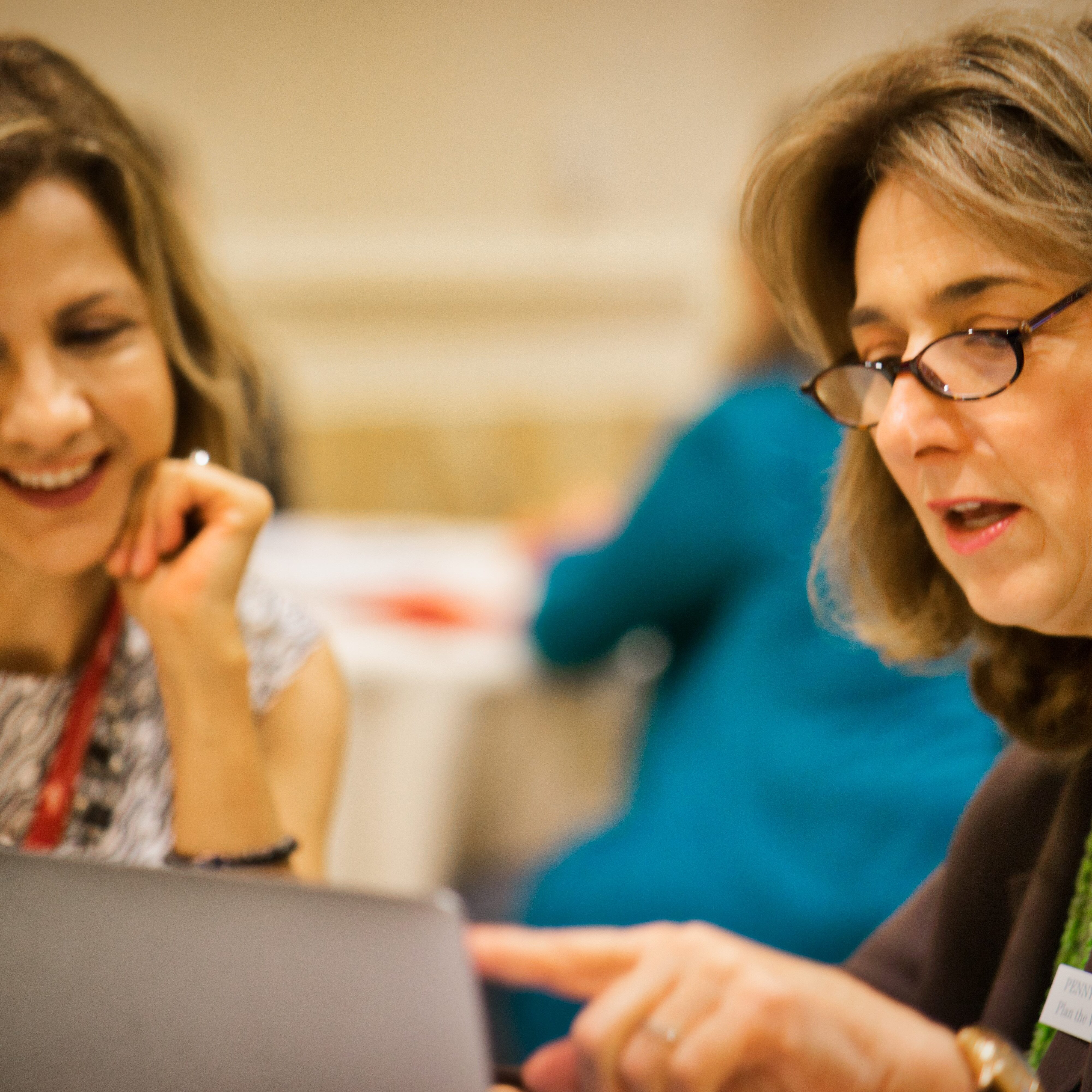 In its 14 years, the Mentoring Program has helped more than 500 women experience the power and enjoyment of receiving personal support and guidance from qualified executives and coaches to achieve breakthroughs, strengthen business acumen, and gain confidence.The program includes one-on-one sessions with mentors and opportunities for group learning and collaboration. 2020-2021's cohort will be held virtually.
The total program cost is $500. The opportunity to transform your business under the direction of a committed professional is priceless. Installment plans are available with a $200 deposit.
I joined the NAWBO Mentoring Program, but never expected my mentor to be such a perfect fit for me.  When I first met my mentor, I felt like I was "all over the place" with little direction on which way I should go. My mentor understood exactly what the challenge was to be a woman owner in a male dominated industry.  She continually gives me the strength and encouragement to be "the woman in control of my company". Some femininity is needed in the daily operation, but the male construction worker reacts differently when the boss is sporting a dress. My mentor has given me the tools necessary to boost my abilities and talents in dealing with this and I am so grateful. She has also encouraged me not to forget the business development side and has boosted my confidence in this area.   I would like to express a sincere thank you to NAWBO-OC for this wonderful mentoring program and all that it has done for me.
Janaille Golledge, Magnum Mechanical, Inc
When I applied for the NAWBO-OC Mentoring Program I had a feeling of great expectation, opportunity, excitement and enthusiasm.  It has continued forth as such and grown into a group full of comradeship and empowerment.  This program matched me with a personal mentor takes my learning to another level.  My match was with someone who I immediately connected with.  I feel truly blessed to have the guidance on a business level with a mentor whose idea's I have taken and implemented in my business with measurable success.  Beyond business success I have gained a personal peace of mind and balance in my life.  As my journey continued, someone significant came into my life.  Thank you to NAWBO-OC'S Mentoring Program for making this program great.
-Mary Neil, Caliber Signs & Imaging, Inc.
The NAWBO-OC Mentoring Program has been one of the jewels of my NAWBO-OC membership.  While taking an early morning walk on the beach, my mentor and I came up with a great idea for helping me to effectively track the progress of all the different projects I was working on.  Over coffee, my mentor gave me a brilliant idea for helping me to change my narrow focus to a much bigger picture.  And while meeting in my office, my mentor helped me to set up a timeline for completion of a project I have had on my "to-do" list for months.  The program has been a wonderful experience in learning, sharing and growing as a business woman and as a friend.  
-Trina Fleming, Director of Operations and Marketing, WHW
The mentoring program has been a fantastic help in shaping my business. My mentor and I clicked from the first time we met and I definitely want to thank the Program for matching me with someone who suits my personality so perfectly.  I am an attorney with almost 13 years of experience in the legal field, but I only started my own practice two years ago and felt I wanted to have someone else look at my business with fresh eyes.  The bi-weekly sessions have been phenomenal as we have been examining different aspects of my business and she has provided guidance in every area.  I always feel I am getting a lot of information and analysis and always look forward to these sessions.  I am so very grateful for the opportunity to participate in the program.
-Mahyar A. Ghassemian, Attorney at Law
I want to thank NAWBO-OC for introducing me to this program and my mentor.  She has taught me self- confidence, how to be a mover and shaker, and a true entrepreneur. Her advice has helped me really focus my energy on MY business. If someone is seeking a solid plan of action and direction, this program is the one for you.  My mentor has taught me discipline and commitment which has exceeded my expectations. She has also given me a wealth of mentoring in my personal life and I highly value her words of wisdom and experience. I am profoundly thankful that she has taught me to measure myself not by financial or personal accolades but by being true to myself.  This program has changed my life and my business forever. 
Heidi Lopez
Owner
Lifeline of Southern California
The day I found out who my mentor was going to be, everyone said that I was so lucky to be matched with this incredible person and that she would make me work. Both turned out to be correct! 
My mentor came into my business at a time of great change and she was able to walk me through things step-by-step so that I could handle all I needed to do. I really value her advice, her no-nonsense attitude and her appreciation for the business that I have already built. The fact that she can be my champion while also holding me accountable really works for me and I am learning a tremendous amount. I only wish my time with her didn't have to end. The funny thing is that I was really hesitant to apply for the program--and almost didn't do it--and it's turned out to be one of the most significant experiences in my life.
-Susan Shieldkret, Owner, The Passionate Collector
Are you looking to give back?
If you are a successful woman business owner, coach, or executive looking to give back and share your expertise to support other women entrepreneurs, we'd love to hear from you. If you are interested in applying to become a mentor or have questions about what is required of mentors, please let us know!