NAWBO OC
NAWBO OC is the Orange County chapter of the National Association of Women Business Owners (NAWBO).
NAWBO
NAWBO propels women entrepreneurs into economic, social, and political spheres of power worldwide by:
Strengthening the wealth-creating capacity of our members and promoting economic development
Affecting innovation and change in the business culture
Building strategic alliances, coalitions and affiliations
Influencing public policy and opinion makers
How are we different?
NAWBO is the unified voice of over 11 million women-owned businesses in the United States.
It is the only dues-based organization representing the interests of ALL women entrepreneurs across all industries, locations, and socio-economic environments.
NAWBO is respected among elected officials locally and in Washington D.C., and regarded as a thought leader on women's business issues.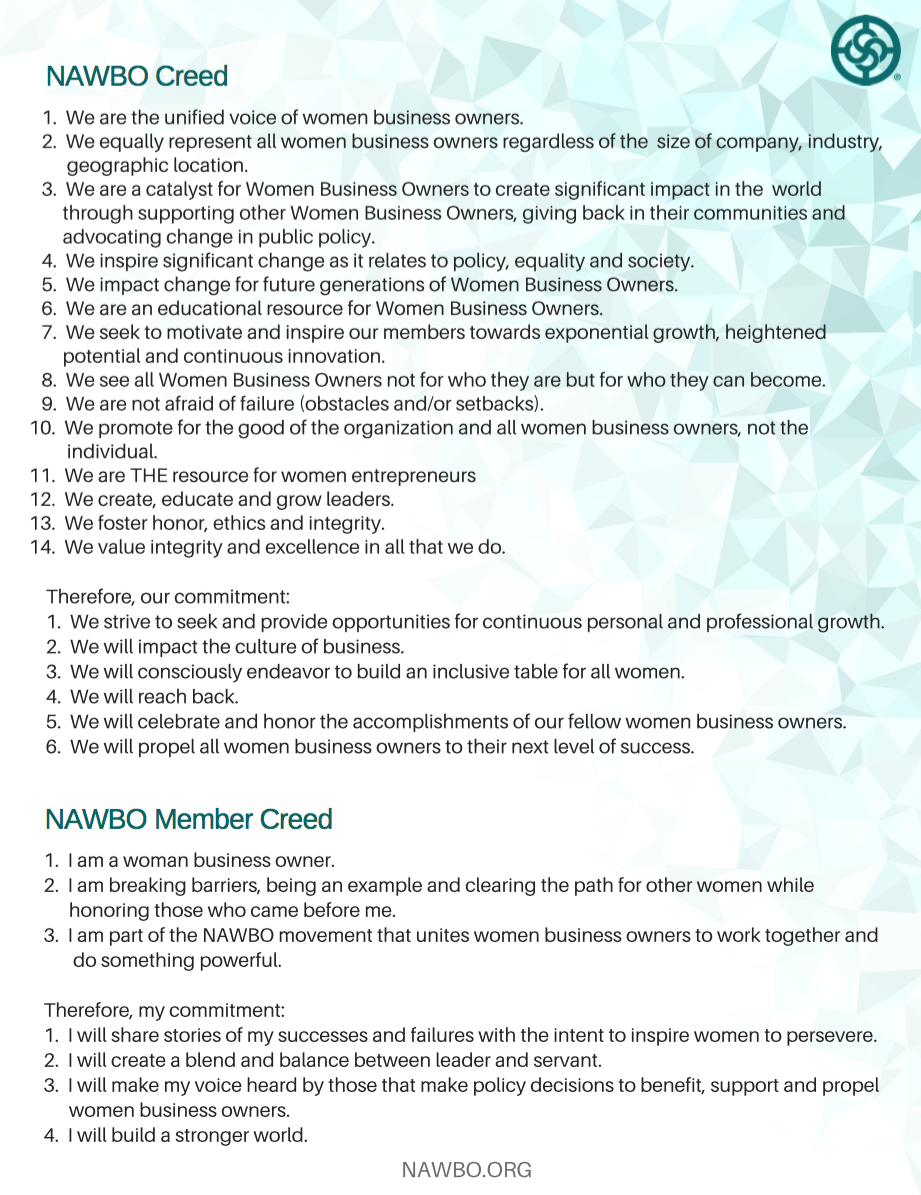 In principle and in practice, NAWBO values and seeks a diverse and inclusive membership.  NAWBO seeks full participation in the organization by all business owners who support our mission to empower women entrepreneurs, regardless of race, religion, age, sexual orientation, national origin or disability. NAWBO's goal is to effectively represent the full diversity of the women business owner community and to expand access to leadership opportunities across the full spectrum of our membership.
NAWBO OC is recommitting itself to diversity, inclusion, equity, and access. If you are interested in shaping our diversity initiatives, please email NAWBO President Katie Adams Farrell.
In December 1990, Sandy Sutton, the U.S. Small Business Administration's District Director, decided that it was time for Orange County's women's business community to join the ranks of NAWBO. Sandy reached out to 10 prominent business women and challenged them to find a core group of 30 to qualify as a NAWBO chapter. It took less than 2 months to find and unite women who were ready, willing and able to form a chapter.
In February, 1991, the chapter received its certification from National, and Nita Busby was elected the first president of the fledgling Orange County chapter. Nita was followed by Presidents Linda Pinson, Judee Slack, Rachel Owens and Karen Herb. The efforts of these ladies laid the foundation for one of the most vibrant chapters in the country.
Get a seat at the table, or build your own, and make sure to include other women.
-- Susan Hagar, NAWBO Founding President