November Chapter Meeting: NAWBO-OC RoundTables with Industry Experts
November 14 @ 5:00 pm

-

7:00 pm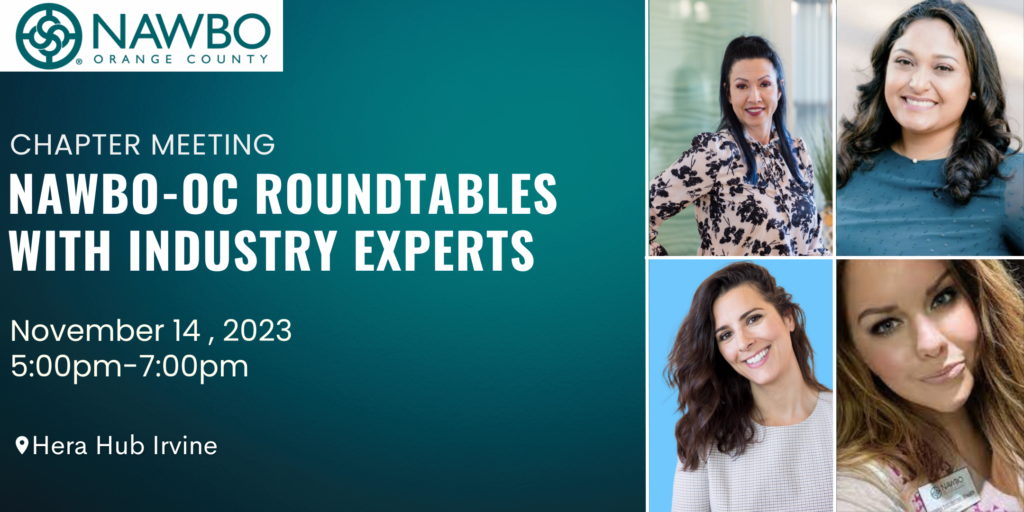 Join us on November 14th for NAWBO-OC's Round Tables with Industry Experts. This event offers a unique opportunity to participate in personalized, intimate discussions guided by industry professionals.
Our roundtable discussions will span industry trends, best practices, and hands-on solutions for common challenges. Whether you're looking to gain new knowledge or expand your professional network, this event is designed for you.
Topics include:
Financial Literacy
Social media
Public Speaking/ Marketing
Goal Setting/Strategic Planning
Refreshments and appetizers will be served.
Non-members are welcome. Invite a friend!
ABOUT THE SPEAKERS
Dawnette Palmore is the founder and owner of Your Money On Purpose Coaching where she empowers professional and entrepreneurial women who make great money but don't know where it goes to gain control of their finances without sacrificing their lifestyle so they can live a financially stress-free life. Dawnette is committed to helping women to thrive in their business and life instead of just surviving. Through her own mistakes with money, she discovered how to keep vision focused instead of budget focused which has allowed her to get out of debt, save and invest in her future all while enjoying the things she loves. Since 2015 Dawnette has empowered hundreds of women to create a thriving and profitable business, live their life on their terms and be at peace with their money. When she is not empowering other women, she can be found spending time with her family and friends.
Rachael Luciak: With over 15 years' experience spearheading large-scale initiatives for a global infrastructure leader, Rachael's expertise lies in guiding organizations towards laser-focused strategies, fostering cultural transformation, and improving processes across diverse business functions. Her experiences have equipped her with the knowledge and expertise to help businesses thrive in today's ever-evolving market. As a dual citizen of both the United States and Canada, Rachael has worked with hundreds of teams throughout North America, driving millions of dollars' worth of growth and profitability within companies. Her diverse clientele ranges from dynamic startups to Fortune 500 companies. In her pursuit of propelling innovative, high-growth companies, she established Strategic G Advisors. Rachael currently serves as Vice President of Strategy and Development for NAWBO-OC, where she drives forward initiatives to empower and support women entrepreneurs. She holds an MBA from Montpellier Business School and is a certified Change Management Professional (CCMP) and Lean Six Sigma Black Belt.
Mrs. Katherine Vargas has a profound passion for connecting with individuals and engaging in collaborative efforts with fellow business owners to mutually elevate one another. Her approach centers on forging connections through collaboration, allowing her to meet more people in an authentic and genuine manner. She eagerly invites you to connect and be a part of this journey.